Business Continuity Management
Establishment of Risk Management System and Business Continuity Plan (BCP)
The ERM Committee, which is chaired by the President, Representative Director and CEO, has been established and held, in principle, semiannually, to build an Enterprise Risk Management (ERM) system as an appropriate risk management framework for the Group as a whole. The ERM system aims to reasonably ensure the formulation of management strategies and the achievement of business objectives of the Group. The ERM Committee's role is to determine important matters related to our basic policy on ERM, and the development and operation of the system. The ERM Committee comprehensively assesses, through the formulation and progress management of the ERM plan, the risks concerning strategies, market, competitors, operation, compliance, J-Sox, and others, formulating and monitoring response policies. The ERM Committee also deliberates on the identification of issues to be discussed by the Board of Directors. When such issues are identified, the chairperson of the ERM Committee makes a proposal to the Board of Directors. The matters discussed by the ERM Committee are reported to the Board of Directors on a regular basis.
The basic policy for ERM is as follows.
By integrating risk management practices throughout the entire organization and linking strategy with risk more closely, we improve the formulation of the TechnoPro Group's business goals and strategies, as well as operational decision-making in each area.
We conduct a comprehensive assessment of the identified risks and establish a risk response based on the clarified risk appetite.
We emphasize thorough compliance at business site.
The ERM Committee also discusses a business continuity plan (BCP). We annually review critical operations for business continuity (confirmation of IT infrastructure operation, information disclosure at the Tokyo Stock Exchange, emergency salary payments, etc.), and conduct BCP drills. We also appoint personnel in charge and prepare response manuals for critical operations in order to deal with any emergency situation.
Business and Other Risks (on Investors page) Information Security (on Investors page)
TechnoPro Group Business Continuity Basic Policy
The TechnoPro Group has established the following "TechnoPro Group Business Continuity Basic Policy" to fulfill its mission and social responsibility as a technical personnel service group even in the event of a natural disaster such as a major earthquake or other crisis that causes extensive damage. In addition, we shall focus on maintaining corporate value and creditworthiness by establishing a business continuity plan and a system for its implementation and operation, which will be formulated based on the principles of this policy.
In the event of life or physical danger to executives, employees, and their families, we shall act with the highest priority on ensuring their safety.
We shall make efforts to minimize the impact on the Group's business to the extent possible by continuing to prioritize critical operations and achieving early recovery, supporting our customers and business partners in resuming and continuing their business.
We shall disclose information to our shareholders, customers, creditors, and other stakeholders in a timely manner regarding the status of damage and recovery from the disaster.
We shall contribute to society by cooperating in ensuring the safety of local communities and supporting reconstruction and recovery efforts.
We shall provide education and training for executives and employees as appropriate to improve the awareness and response capabilities of the organization and each individual.
We shall review our plans and systems for business continuity, as well as this basic policy, from time to time in response to changes in the environment, and continue to improve them.
Published: November 1, 2016 Revised: July 1, 2023
Initiatives
Employee safety checks
We have introduced a safety check system for all employees, involving automatic e-mails to affected area residents' personal PCs and mobile phones and system access guidance in the event of an emergency. Via these measures, we have established a system to rapidly confirm any injuries, including to employee family members, and to ascertain employee working availability. In addition, we conduct safety check system training at least annually, and strive to raise awareness of appropriate action to take in case of emergency as well as improving system operation accuracy.
BCP Training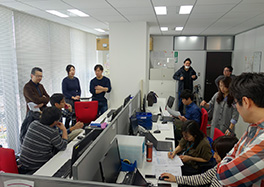 We conduct regular reviews and drills both for business continuation in the event of an emergency and improvement of the BCP process itself. We evaluate availability and effectiveness of our BCP and make improvements as required. For example, we carry out drills such as assembling temporary operation personnel at alternative offices under the assumption that business execution at head office become difficult, confirming safety of executives and employees, and executing critical operations.
On February 25, 2023, we conducted our first fully remote BCP training session, replacing the previous in-person training sessions. Using our newly released "THD BCP Portal Site" designed for BCP response, each responsible party entered information such as the safety of employees, physical and human damage caused by the disaster, IT infrastructure status, and inquiries from both internal and external sources. This information was reported during the integrated response headquarters meeting, where discussions and decisions were made towards recovery and business continuity.